Prof. Maher Kayal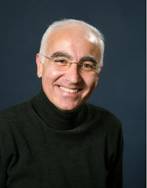 Adjunct Professor
M.S. and Ph.D degrees in electrical engineering from the EPFL, Switzerland in 1983 and 1989 respectively. Head of the electrical and electronics section since 2003 and vice dean for education of the school of engineering since 2008. Published more than 100 scientific papers with 5 best papers awards, coauthor of three text books dedicated to mixed-mode CMOS design and holds 5 patents.
The general research of the ELAB is the design of mixed mode integrated electronics with emphasis on analog aspect. The field of competences was extended, upstream, with the physics of the electronics devices, and downstream with the integrated systems. In order to maintain the know-how and achieve a good international visibility a new design methodology based on device behavior has also been developed and encapsulated into CAD platforms.
The nano-electronics emerging devices and their integration into the world of electronics functions is a targets of our research activities.
The Smart power grid optimization and energy management using low power low voltage analog VLSI emulation approach, is an emerging niche, our achievement in this field is today well established.
Contact

Maher KAYAL
EPFL STI IEL GR-KA
ELB 338 (Bâtiment ELB)
Station 11
CH-1015 Lausanne