Prof. Jean-Philippe Thiran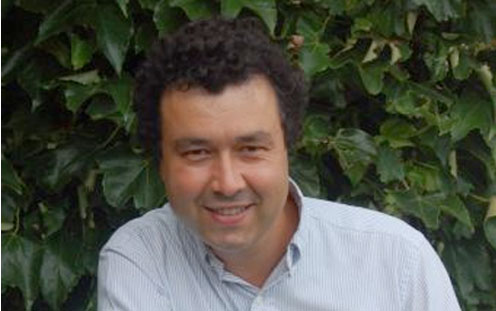 Associate Professor
Jean-Philippe Thiran was born in Namur, Belgium, in August 1970. He received the Electrical Engineering degree and the PhD degree from the Université catholique de Louvain (UCL), Louvain-la-Neuve, Belgium, in 1993 and 1997, respectively. His PhD thesis was related to 3D medical image registration. From 1993 to 1997, he was the co-ordinator of the image analysis group of the Communications and Remote Sensing Laboratory at UCL, mainly working on medical image analysis. In 1996, he has been an active member of the Organising Committee of the 3rd IEEE International Conference on Image Processing (ICIP'96), organized in Lausanne, Switzerland. Dr Jean-Philippe Thiran joined the Signal Processing Institute (ITS) of the Swiss Federal Institute of Technology (EPFL), Lausanne, Switzerland, in February 1998 as a senior lecturer. Since January 2004 he is Assistant Professor, responsible for the image analysis group. In a few years he has built a research team of some 20 researchers, both PhD students and post-docs, active in various areas of signal, image and multimodal data analysis.

Dr Thiran's current scientific interests include

Image segmentation,
Prior knowledge integration in image analysis,
Partial Differential Equations and Variational Methods in image analysis,
Multimodal signal processing,
Medical image analysis, including multimodal image registration, segmentation, computer-assisted surgery, diffusion MRI, etc.

From 2001 to 2005 Prof. Thiran was Co-Editor-in-Chief of the Signal Processing international journal (published by Elsevier Science). He is currently an associate editor of the International Journal of Image and Video Processing, published by Hindawi Publishing Corp., and member of the editorial board of the journal "Signal, Image and Video Processing", published by Springer. He was a member of the organising committee of the IEEE International Conference on Multimedia and Expo 2002 (ICME2002) and of the IEEE International Workshop on Neural Networks for Signal Processing 2002 (NNSP02) and a member of the scientific committees of many international conferences including the IEEE International Conference on Image Processing (ICIP), the IEEE International Conference on Acoustics, Speech and Signal Processing (ICASSP), the IEEE Computer Society Conference on Computer Vision and Pattern Recognition (CVPR), the International Conference on Medical Image Computing and Computer Assisted Intervention (MICCAI) and the European Signal Processing Conference (EUSIPCO). He was the general chairman of the 2008 European Signal Processing Conference (EUSIPCO 2008). He is a senior member of the IEEE and a member of the IEEE MLSP Technical Committee.

The research activities of the group of Prof. Thiran are dedicated to the development of new methods for robust image analysis, with the ultimate goal of transforming the huge amount of digital visual data produced every day into information and knowledge. Our research specifically addresses the inclusion of prior knowledge in image segmentation, i.e. the mathematical techniques to include different types of prior knowledge available about the image analysis task at hand. Those techniques include partial differential equations and variational methods, behavioral modeling, image registration or atlas-based segmentation. Those methods are applied to various fields including medical image analysis, surveillance, multimodal signal/image analysis, aerial and satellite imaging, etc.
Contact

Jean-Philippe THIRAN
EPFL STI IEL LTS5
ELD 240 (Bâtiment ELD)
Station 11
CH-1015 Lausanne