Prof. Hervé Bourlard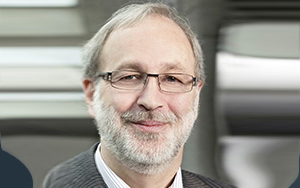 Full Professor
<p style=
The Idiap eight groups of research encompass the following research areas:
"Speech & Audio Processing" encompasses statistical automatic speech recognition, text-to-speech, and generic audio processing.
"Computer Vision & Learning" develops new statistical learning techniques mainly for computer vision. The application domains include object detection and scene analysis, the tracking of people and biological structures, and image recognition.
"Social Computing" integrates theories and models from mobile and ubiquitous computing, multimedia, machine learning, and social sciences, to sense, analyze, and interpret human and social behavior, and create devices and systems that support interaction and communication.
"Perception & Activity Understanding" investigates fundamental tasks of scene analysis (detection and tracking, sequential modeling for activity and behavior recognition) for the analysis of human activities from multimodal data. Surveillance, traffic analysis, analysis of behavior, human-robot interfaces, and multimedia content analysis are the main application domains.
"Artificial Cognitive Systems" works on the development of multi-modal learning algorithms to enable artificial agents to act autonomously in realistic settings, with a special emphasis on the ability to autonomously detect knowledge gaps and fill them autonomously with open-ended learning strategies.
"Applied Machine Learning" is interested in computer algorithms that can "learn" a behavior in order to achieve a given task of interest, in contrast to algorithms with behavior constrained by handcrafted rules.
"Biometric Person Recognition" refers to the automatic recognition of individuals based on their behavioral and biological characteristics.
"Natural Language Processing" studies how semantic and pragmatics analysis of texts can improve the execution of two important tasks – machine translation and information retrieval.
Contact

Hervé BOURLARD
EPFL STI IEL LIDIAP
ELE 130 (Bâtiment ELE)
Station 14
CH-1015 Lausanne