Prof. Jürgen Brugger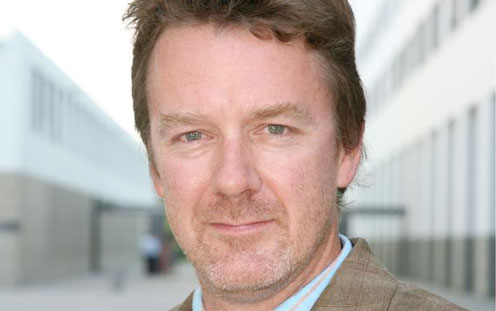 Full Professor
Juergen Brugger is Professor at the Ecole Polytechnique Federale de Lausanne (EPFL), Switzerland in Microengineering and Materials Science. Before joining EPFL he was at the MESA Research Institute of Nanotechnology at the University of Twente in the Netherlands, at the IBM Zurich Research Laboratory, and at the Hitachi Central Research Laboratory, in Tokyo, Japan. He received his Master in Physical-Electronics and his PhD degree from Neuchatel University, Switzerland.

Research in Juergen Brugger's laboratory focuses on various aspects of MEMS and Nanotechnology. Over the past 15 years the group has made several important contributions to the field, at the fundamental level as well as in technological development, as demonstrated by the start-ups that spun off from the lab. In his research, key competences are in micro/nanofabrication, additive micro-manufacturing, new materials for MEMS for biomedical applications. Over the past 10 years, he published over 200 peer-refereed papers, supervised 20 PhD students. Former students and postdocs have been successful in receiving awards and starting their own scientific careers (6 professors so far). Juergen Brugger has been appointed in 2016 Fellow of the IEEE "For contributions to micro and nano manufacturing technology". In 2017 he was awarded an ERC AdvG in the field of advanced micro-manufacturing.


EDUCATION
1995 PhD, University of Neuchatel, Switzerland. Thesis: "Microfabricated tools for the scanning force microscope" (Advisor: Prof. N.F. de Rooij)
1990 Master in Science, University of Neuchatel, Switzerland

CURRENT POSITIONS
2015 – now Full Professor, Chair "Microsystem Laboratory", School of Engineering, Institute of Microengineering, Swiss Federal Institute of Technology (EPFL), Lausanne, Switzerland
2015 – now Full Professor, courtesy appointment in Materials Institute, School of Engineering, Swiss Federal Institute of Technology (EPFL), Lausanne, Switzerland

PREVIOUS POSITIONS
2008 – 2015 Associate Professor, School of Engineering, EPFL, Switzerland
2001 – 2008 Assistant Professor, Tenure Track, School of Engineering, EPFL, Switzerland
1998 - 2001 Research Director "NanoLink", MESA Institute, University of Twente, The Netherlands
1997 - 1998 Research Staff member, IBM Zurich Research Laboratory, Rueschlikon, Switzerland

FELLOWSHIPS AND AWARDS
1995 - 1996 Postdoctoral Fellow, IBM Zurich Research Laboratory, Rueschlikon, Switzerland
1997 IBM 1st plateau patent award
1993 – 1994 Invited Visiting Scientist Fellowship, Hitachi Central Research Laboratory, Tokyo, Japan

SUPERVISION OF GRADUATE STUDENTS AND POSTDOCTORAL FELLOWS
2001 – 2016 14 finished PhD as first supervisor, 3 as co-supervisor, 6 ongoing; > 15 postdocs; > 20 Master students, EPFL, Lausanne, Switzerland
1998 - 2001 1 Postdoc/5 PhD students/ 3 Master Students
MESA Institute, University of Twente, The Netherlands

TEACHING ACTIVITIES
2016 - Initiated a new MOOC lecture (online course on MEMS fabrication technologies)
2015 - today Doctoral school; "Printing technologies" EPFL, Lausanne, Switzerland
2010 - today Doctoral school: "Emerging nano fabrication" EPFL, Lausanne, Switzerland
2006 - today M.Sc. teaching: "Nanotechnology", EPFL, Lausanne, Switzerland
2002 - today B.Sc. teaching: "Microfabrication", EPFL, Lausanne, Switzerland

ORGANISATION OF SCIENTIFIC MEETINGS
2019 Designated Program Chair of TRANSDUCERS 2019, Berlin, Germany (~1400 participants)
2015 Co-Chair IEEE-MEMS 2015, Estoril, Portugal (500 )
2014 Co-Chair of Micro and Nano-engineering MNE 2014, Lausanne, Switzerland (500 )
2009 General Chair of EUROSENSORS 2009, Lausanne, Switzerland (500 )
2005-2006 TPC member of IEEE-IEDM conferences
Since 2005 Steering committee member of international conferences (Transducers 2015, 2017), Eurosensors (since 2010), IEEE-MEMS (2012-2017)

INSTITUTIONAL RESPONSIBILITIES
2016 Founding member of EPFL Micro-Manufacturing Center
2015 - today Chair of Academic Evaluation Committee, School of Engineering, EPFL, Switzerland
2013 - today Committee member of Interfaculty Center for Microscopy, EPFL, Switzerland
2013 - today Committee member of Material Testing Facility, EPFL, Switzerland
2012 - 2016 Management Board member of Institute of Microengineering, EPFL, Switzerland
2009 - 2012 Vice-Director of Institute of Microengineering, EPFL, Switzerland
2009 - today Committee member of Cleanroom Center for Micro-Nanotechnology, EPFL, Switzerland
2005 - today Member of admission committee for doctoral students, EPFL, Switzerland
2002 - 2010 Undergraduate Student Advisor, EPFL, Switzerland
2010 - today Organizer of Swiss iCAN student contests

COMMISSIONS OF TRUST
2008 - today Reviewer, EU proposals, ERC proposals, SNF, DFG, Nano-Argovia, CTI-KTI.
2012 - today Member of OMEGA watch Scientific Foundation
2014 - today Chief Editor, Mechanical Engineering, Frontiers
2013 – today Speciality Chief Editor, Micro- and Nanoelectromechanical Systems, Frontiers in Mechanical Engineering
2015 - today Editor, IEEE Journal of Micro Electro Mechanical Systems, "J-MEMS"
2005 - 2014 Editorial board member IoP journal "Nanotechnology"
2009 - today Member of search committee for faculty recruitment, School of Engineering, EPFL

MEMBERSHIPS OF SCIENTIFIC SOCIETIES
2016 Appointed Fellow of the IEEE

INVITED TALKS (selection)
- 2017 Int'l Micro Nano Conference, Amsterdam, The Netherlands
- 2017 Nanolito, Madrid, Spain
- 2016 AIME, Academia Industry Matching Event, Oct 2016 at GSI, Darmstadt, Germany
- 2015 PACRIM, Jeju Island, South Korea
- 2015 Keynote lecture at IEEE-NEMS Xi'an, China
- 2014 Micro- and Nano-sensors Symposium, Chinese Academy of Sciences, Beijing
- 2014 International Conference on Flexible and Printed Electronics (ICFPE), Suzhou, China
- 2014 SEMICON China, CSTIC 2014, Shanghai, China
- 2014 Geneva Centre for Security Policy (GCSP), 26 February 2014
- 2013 10th Int'l Workshop on Nanomechanical Sensing (NMC 2013) Stanford University, USA
- 2012 NanoSpain Conference in Santander, Spain
- 2011 Asia Micromechatronic Conf. at Kyunbook National University, South Korea
- 2011 EU-Korea S&T Conference on Bio-Nanotechnology in Seoul, South Korea
- 2011 Molecular Materials Meeting (M3) in Singapore, Jan 10-12, 2011
- 2008 2nd Spanish Nanolithography Workshop 2008, Spain
- 2008 Tip-Based Nanofabrication (TBN) Workshop, Taipei, Taiwan 2008
- 2007 American Vacuum Society AVS 54th International Symposium, Seattle, WA, USA
- 2006 MNE'06, 17-20 September 2006. Barcelona (Spain)

INTERNATIONAL CONFERENCES ORGANIZATIONS
Designated Program Chair of TRANSDUCERS 2019, International Steering Committee member of IEEE-Transducers (2015-), IEEE-MEMS (2011-2017), co-Chair MNE 2014, General Chair of Eurosensors XXIII, 2009;

PRIZES/AWARDS (to my group members)
- 2016 Third prize at the Young Researchers Idea contest 2016 of SwissLitho AG to Samuel Zimmermann
- 2016 Start-up Morphotonix listed in the Bilan journal in the top 50 start-ups from Switzerland
- 2014 Bastien Rachet et al. of SamanTree Technologies Start-up, "Venture 2014" 2nd prize
- 2013 Bastien Rachet et al. of SamanTree Technologies Start-Up, winner of one of the prestigious Heuberger Awards for Start-Up's (150 kCHF)
- 2012 Veronica Savu et al of Morphotonix, for Venture Kick awards (30 kCHF)
- 2012 Best poster award, Loic Jacot-Descombes (PhD student), 16th International Conference for Micro & Nanotechnologies for the Biosciences, Montreux, Switzerland
- 2012 Best entrepreneurship award to Veronica Savu at the EIPBN 2012
- 2012 Best poster award to Maurizio R. Gullo, Postdoc, 1st International conference on MicroFluidic Handling Systems (MFHS 2012) in Enschede, The Netherlands.
- 2012 Outstanding Master thesis award to Marc-Oliver Bammatter, Omega student award, EPFL
- 2012 Best poster award to Valentin Flauraud, PhD student, at the 6th NAMIS summer school in Tokyo
- 2011 "Chinese government award for outstanding self-financed students abroad" to Shenqi Xie, PhD student, by the China Scholarship Council.
- 2011 Best paper award to Kris Pataky, PhD student, at Swiss E-Print conference 2011
- 2011 Prix Etat de Vaud to Melanie Guittet, Master student, for best master project done at Caltech 2011
- 2011 Gold award to Loic Jacot-Descombes, PhD student for Best Poster, MME conference, Toensberg
- 2011 Honorable mention to Veronica Savu, Postdoc, EIPBN conference 2011
- 2010 Imager contest award to Mona Klein, PhD student, Nanotechnology Imagery contest
- 2009 Outstanding PhD thesis award to Thomas Kiefer, PhD student, Omega Scientific Prize.

LEADERSHIP IN INDUSTRIAL INNOVATION
Co-Founder of MicroLeman Sarl, Geneva.
Mentor of 2 successful start-ups "Morphotonix Sarl, Lausanne" and "Samantree SA", Lausanne.
Scientific Advisory Board member of SwissLitho AG, Zurich, Switzerland


Our laboratory is devoted to micro/nanosystems (MEMS/NEMS) and to the development of new fabrication techniques for highly miniaturized functional devices and systems.

We focus in particular on rapid prototyping techniques to create innovative micro and nanostructures by novel patterning methods (e.g. nano-stenciling and inkjet printing). We share our generic technologies with partners from fundamental material science, applied physics and life-sciences enabling to continously push the limits of experimental investigations.

We also include the study of scalability for future cost-effective and eco-friendly micro/nanomanufacturing to enable technology transfer and commercialization of new nanotechnology-based products.
Contact

Jürgen BRUGGER
EPFL STI IMT LMIS1
BM 3107 (Bâtiment BM)
Station 17
CH-1015 Lausanne