SCCER – FURIES
The Swiss Competence Center for Energy Research – Future Swiss Electrical Infrastructure (SCCER-FURIES) is the Swiss national competence center mandated to develop, promote and deploy power grid-related innovative solutions. It enables the implementation of the Swiss Energy Strategy 2050 by optimizing the massive grid integration of distributed generation, while guaranteeing reduced associated costs and improving the reliability and security of the entire electrical network.
Supported by the main energy funding agencies, namely Innosuisse; the Swiss National Science Foundation; and the Swiss Federal Office of Energy, it brings together 32 academic and 50 industrial partners working on the power system in order to exchange knowledge and technology.
In the frame of the SCCER-FURIES, innovative solutions and technologies are developed and validated. Capacity is build-up with particular reference to the next generation of researchers and engineers in the field.
The SCCER-FURIES's activities cover all the levels of the power grid, from the components to the system, both distribution and transmission, as well as the planning to the operation processes. During the Phase I (2014-2016), numerous innovative solutions were developed in collaboration with the industrial partners. The most promising of these solutions are further developed during Phase II (2017-2020) and deployed in the real-life grid in order to validate their compatibility/superiority with existing technologies. Knowledge and Technology transfer and training activities are implemented in parallel in order to ensure that
the acquired knowledge is properly transferred to both industry and young scientists.
Prof. Dr. Mario Paolone has accepted to lead this center and the Swiss Federal Institute of Technology of Lausanne is the host research institute of the SCCER-FURIES.


Nano-Tera.ch
Engineering Complex Systems for Health, Environment and Energy
Nano-Tera.ch is a Swiss National Program supporting research in multi-scale system engineering. It distributed more than 120MCHF to research teams in Swiss institutions. After almost 10 years of operation, the program is coming to a sunset in 2018. The Nano-Tera.ch program has achieved a broad impact that is measurable along five dimensions. Namely :
• At the scientific level, Nano-Tera.ch strongly promoted ambitious cutting-edge research at the boundary of traditional disciplines, by supporting broad, collaborative research projects. Namely it contributed to bridging nano-components and technologies on one side with large-scale system design on the other. Nano-Tera's significant impact on Swiss research in Engineering Sciences was demonstrated by over 1,600 peer-reviewed publications and more than 2,000 presentations at conferences and workshops.
• At the educational level, Nano-Tera.ch focused on training the next generation of scientific talents by funding more than 360 PhD students. Furthermore, the NextStep program has helped PhD students to increase their entrepreneurial mindset and communication abilities. Overall Nano-Tera.ch has provided Swiss academic institutions and industry with a substantial number of highly-skilled researchers and engineers.
• At the economic level, the program has achieved a strong impact in terms of knowledge transfer. It contributed to Knowledge and Technology Transfer by supporting a large number of PhD students who transferred to industry after graduation or created start-up companies. Nano-Tera.ch launched the Gateway program, to foster the translation of research results into industrial-grade prototypes.
• At the societal level, Nano-Tera.ch promoted a vision of engineering with true social objectives. This goal has been achieved by targeting cutting-edge research in three socially relevant application areas: health, environment, and energy.
• At the institutional level, Nano-Tera.ch triggered intense nationwide collaboration. Many of the new ideas developed and tested within Nano-Tera.ch have been included in BRIDGE, a new Swiss Federal funding instrument for 2017–2020 to jointly support research and precompetitive innovation in the field of Engineering Sciences.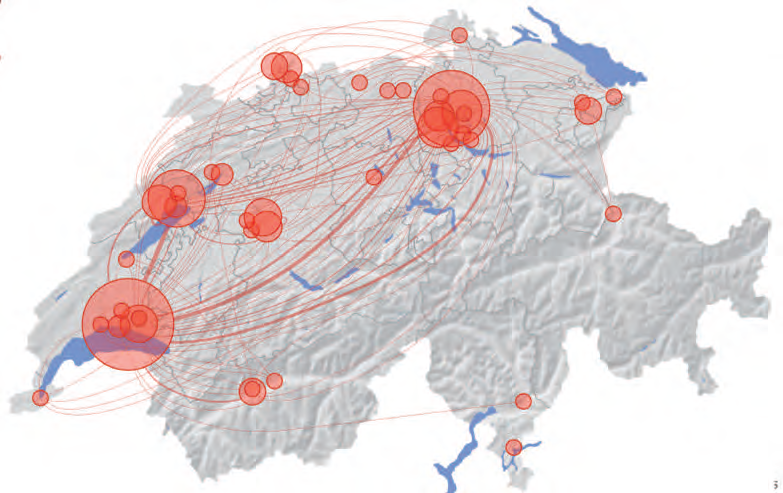 Phase Change Switch (FET Open H2020)
PHASE‐CHANGE SWITCH exploits the abrupt Metal‐Insulator‐Transition (MIT) that occurs in certain materials (as for Vanadium dioxide, VO2) at temperatures that make them interesting for electronic circuits and systems by their performance, energy efficiency and scalability. The project combines energy efficiency and extended functionality with the engineering of new classes of solid‐state Beyond CMOS switches. Metal-insulator-transitions (MITs) are fast and phase change devices deliver deep subthermal switching (<10 mV/decade at room temperature). Very promising energy efficient devices are expected with a voltage supply of integrated circuits (ICs) below 0.5 V, ON currents better than silicon MOSFET and standby power potentially comparable with tunnel FETs.
Smart designs and exploitation of unique properties of the phase change VO2 beyond CMOS switches are targeted within the same technology platform including : (i) von‐ Neumann steep‐slope logic devices and circuits, to extend CMOS with novel functionality and energy efficiency, (ii) uniquely reconfigurable energy efficient radio‐frequency (RF) circuit functions from 1 to 100 GHz, (iii) unconventional scalable neuristors exploiting the hysteretic RC switching behaviour for neuromorphic computation, and, (iv) disruptive classes of solid‐state devices for neuromorphic computation, exploiting non‐volatile memory effects.
PHASE‐CHANGE SWITCH expects to create new applications and markets and reinforce the leadership of European industrial players in the field of energy efficient Internet‐of‐Things and high frequency communications.