May 2018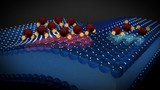 EPFL researchers were able to map out in real time how charges are transported across and along membranes simply by observing the behavior of adjacent water molecules. Their non-invasive and label-free method represents a valuable new tool in the effort to understand how cells – and neurons in particular – function.
A drone developed at EPFL has received three awards during the 46th International Exhibition of Inventions Geneva. PackDrone uses cutting-edge technology to deliver parcels weighing up to 500 grams. The device is programmed to avoid obstacles, and it can reach destinations on steep or uneven terrain.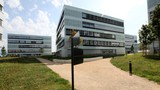 Five Swiss institutions have made it into the Reuters ranking of Europe's most innovative universities. EPFL was ranked fourth.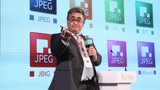 The Joint Photographic Experts Group (JPEG), an international committee headed by an EPFL professor, has just unveiled JPEG XS. With this new format, the image-compression process uses less energy, and higher-quality images can be sent with low latency over broadband networks like 5G. JPEG XS will have applications in areas such as virtual reality, augmented reality, space imagery, self-driving cars and professional movie editing.
EPFL scientists have engineered a tiny guitar string that vibrates 1 billion times when plucked. They would like to use it as a microphone for light.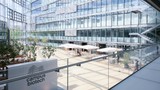 Researchers from Campus Biotech in Geneva were invited to develop joint projects with partner research institutes and bid for funding from the Bertarelli Foundation. The laureates have been announced on April 11th, during the 2018 Bertarelli Symposium held at Harvard Medical School. Two laboratories from the EPFL School of Engineering have been selected.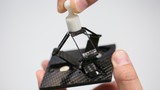 The tactile joystick developed by startup Foldaway Haptics brings the sense of touch to mobile devices, drones and, in a smaller version, to virtual reality controls. This pocket-sized device, which can be unfolded in an instant, is about to hit the market. It has been showcased lase week at the Hannover Messe, the world's largest trade fair for industrial technology.