Electronic Circuits and Devices
General overview
This educational program deals with the modeling, design and experimental implementation of electronic devices and their integration into circuits and systems. The teaching activities are not limited to conventional silicon based technologies, but cover a wide range of novel technologies. The objective of the program is to prepare students to master the core strengths of the circuits and systems area which are : (i) the ability to model complex physical phenomena and devices that are used for various fundamental functions (such as storage, signal amplification, switching), (ii) the ability to abstract the time-domain and frequency domain operation of complex systems and networks using a consistent mathematical framework, and (iii) the ability to create a strong link between theory and experimental results.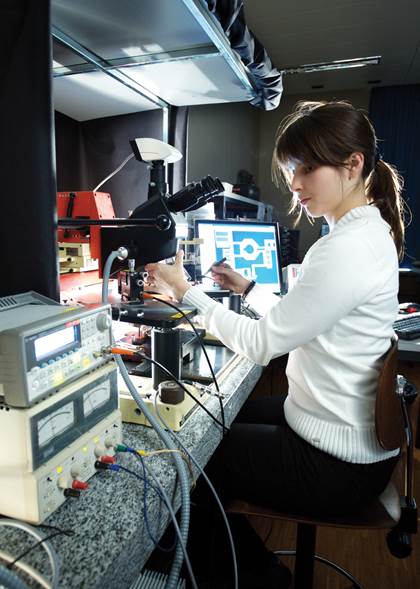 The program is focused on analog and RF design, digital electronics and digital system engineering. It has also strong links to computer science, as any complex digital system requires programming. Students are trained to be able to address key issues as the design of application- specific integrated circuits (ASICs) and low-power, low-energy electronics, which is still a key research issue, because of the increasingly widespread use of mobile devices (e.g., cell phones) and their increased capabilities (and thus energy requirements).
Specializations in Electronics
The program in Electronics is organized in order to provide three specialization areas listed below :
1. Microelectronics circuits and systems : Analog and mixed-signal IC design, sensors interface and signal processing, analog VLSI, analog CAD tools. Design methods and tools : integrated circuits and systems, 3D systems, nanoarchitectures and integrated biosystems. Language-based modeling and validation of SoC components, intelligent system architectures.
MANDATORY COURSES :
Fundamentals of VLSI design
HF and VHF circuits and techniques I
Low power electronics
Semiconductor devices I
2. Electronic technologies and device-circuit interactions : Design and modelling of nanoscale solid-state devices. Silicon-based and compound semiconductor device technologies. Electronic properties of novel nanoscale structures, spin devices, 2D electronics; device and circuit co-design, fabrication and modeling.
MANDATORY COURSES :
Fundamentals of VLSI design
Low power electronics
Semiconductor devices I
Semiconductor devices II
3. Bioelectronics : Integrated bioelectronic systems, miniaturized detection of biomolecules, electricalbased interactions with living matter, high-throughput in-vitro and in-vivo systems. Implantable electronics and novel telemetry devices for medical monitoring applications. Modeling, fabrication and experimental demonstration of bioelectronic interfaces.
MANDATORY COURSES :
Analog circuits for biochips
Low power electronics
Sensors in medical instrumentation
Wireless receivers : algorithms and architectures